CALHOUN, GA – Red Bud Middle School Nurse Kristi Langham has been named the 2023 Gordon County Schools Nurse of the Year.
Nominated by nurses across Gordon County Schools, Langham was recognized for her knowledge, kindness, and the overall impact she has made in the lives of students in Gordon County. One nomination stated, "Kristi has made a tremendous impact in Gordon County Schools. Her knowledge in the medical field is evident as seen in her practice. She is always ready and willing to help in any way she can. She gives her BEST to each student she serves. As a parent to children within the GCS system, I am so thankful she has been my children's nurse, as I NEVER have to worry if they are in good care."
Total, Langham has spent the last 21 years serving in the medical field, 9 of which have been spent serving the students of Gordon County as a school nurse, and 3 as a nurse with AdventHealth Gordon as part of the expanded partnership between Gordon County Schools and AdventHealth Gordon.
"I am truly honored and blessed to receive this award," said Ms. Langham. "I represent all of our hard-working nurses, not just one. It takes all of us to make a difference and I am so blessed to work with some of the most dedicated, intelligent, compassionate, loving nurses in Gordon County Schools."
Langham was surprised with the announcement on Wednesday, March 15, by Superintendent Dr. Kim Fraker, Assistant Superintendent Alice Mashburn, Red Bud Middle School Principal Justin Timms, and members of the RBMS staff.
Langham will be honored by the Board of Education during its April Board meeting.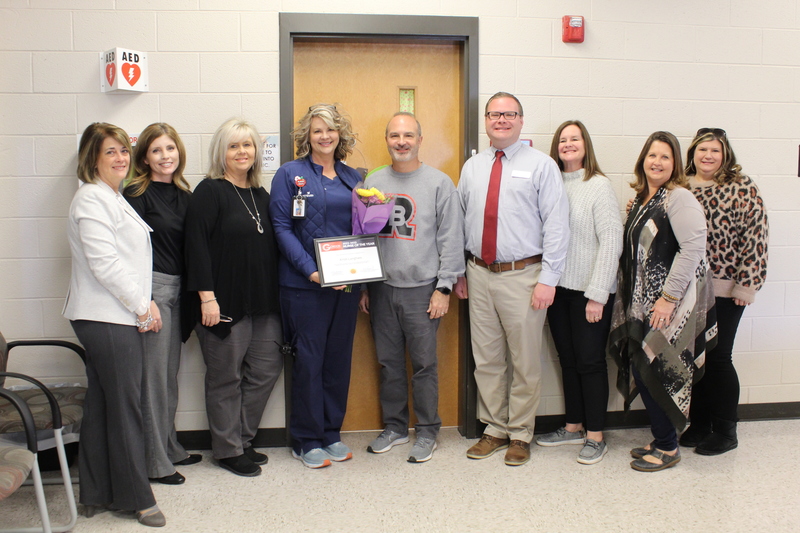 ###
About Gordon County Schools
Gordon County Schools system serves approximately 6,500 students in schools across the county including six elementary schools, two middle schools, and two high schools. The mission of the Gordon County School system is to build a collaborative culture that engages all students and staff in learning experiences leading to growth, empowerment, and transformation.
Contact at Gordon County Schools:
Kendra Pannell
Communications Coordinator
Email: kpannell@gcbe.org
Phone: (706) 629-7366 ext. 8151
Website: www.gcbe.org